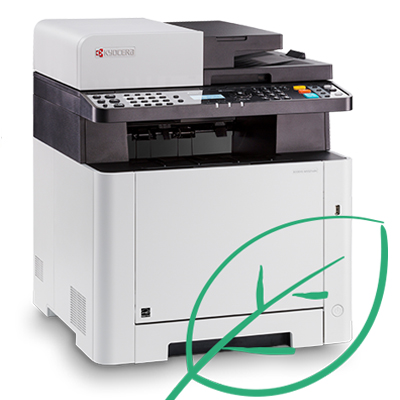 Kyocera wins Award for A4 Printers
Kyocera scoops Best A4 MFP Manufacturer prize at The Cannata Report's Frank Awards
Kyocera Document Solutions America, Inc., is celebrating its latest industry recognition, having been named Best A4 MFP Manufacturer at The Cannata Report's annual Frank Awards. The awards are voted for by dealers across the country, with this year producing the second highest number of participants ever with 342 document solutions organizations sharing their point of view and voting Kyocera's A4 MFP range the best in the market.
The award – presented by Edmund Sumner, Managing Director at SumnerOne – attests to Kyocera's innovative, world-class technology in the A4 marketplace. What's more, the award was given to Kyocera for the third consecutive year, a remarkable feat. With devices like the ECOSYS M5526cdw, M5521cdw, and M6630cidn , or the TASKalfa 508ci Series, Kyocera offers quality and reliable printing which meets today's business needs.
Kyocera, specialists in IT solutions and software alongside their respected range of printers and multi-functional products, emerged victorious from a shortlist of competitors. The award is a testament to the innovation and research and development efforts undertaken by the company in the A4 marketplace.
"A4 has become an increasingly essential product offering for office technology dealers, and this year illuminated the need for dealers to carry a comprehensive A4 line," said CJ Cannata, President and CEO of The Cannata Report. "Best A4 Manufacturer is one of the most competitive categories in our annual awards and for a company to take home this award for the third consecutive year is an outstanding achievement and an indication of Kyocera's commitment to developing one of the most feature- and application-rich A4 lines in the industry."
"Being awarded Best A4 MFP Manufacturer is a source of immense pride for the whole organization," says Óscar Sánchez, President and Chief Executive Officer at Kyocera Document Solutions America, Inc. "A4 has been a major focus of our attention for some time, even more so given the rise of remote working during the COVID-19 pandemic. We have set about turning home offices into professional remote working spaces right across the country, and our portfolio of reliable, versatile and high-quality A4 devices has allowed us to do so."
While many organizations have announced long-term remote working strategies, others have opted for a hybrid working approach, and it's clear that A4 printers will be fundamental to both. Many households are now printing more than ever, and customers are demanding robust and reliable devices that deliver quality that lasts the test of time. Kyocera's range of A4 printers satisfies these needs.
Moreover, Kyocera's ECOSYS range of products means that customers don't have to choose between professional quality and high cost. These reliable, energy-efficient devices deliver high-quality print output while reducing user carbon footprint thanks to toners which require less heat in order to stick to the page, lowering the amount of energy required to print.
Offering print speeds of up to 52 pages per minute, in both black and white and in color, and with up to 87 impressions per minute for scanning, Kyocera's range in this area is ideal for any workspace, with wireless and Wi-Fi direct capabilities tying up with a control panel to make the devices easy to use.
When we consider the nature of work going forward and the increasing consumer demand for products and solutions that facilitate an efficient and responsible approach to working, it is clear that Kyocera's range of A4 printers will prove to be an extremely popular choice among customers.
"Finally, I would like to take this opportunity to congratulate the team at The Cannata Report on making their virtual gala such a huge success," concludes the Kyocera President. "The event is an important one on our calendar and it was fantastic to see everything go so smoothly in this new format."